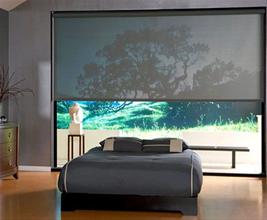 Qmotion has been able to provide the unimaginable technological advancement that enables an individual to just sit back relax and enjoy the comfort of their homes without worrying about safety cords. They have made it possible to control the shades in your Dallas homes as you wish to. This kind of advancement makes your home, safe and beautiful due to absence of wires all over the house.
This company has transformed the way shades are operated and controlled. The construction of these shades to include four steel ball bearings of very high levels of accuracy has incredibly reduced the friction that had existed when shades were moved. You will be able to enjoy a peaceful time in the house due to the smooth cue. This also means that its battery life can last for a minimum of five years.
You may wonder how the batteries are included in this technology and where they will be kept. Well, since it is a standard alkaline D, it is hidden inside the tube found in the shade. During that time when you will need to replace it, you will have no problem in accessing it.
The operation of this technology includes the use of a radio frequency remote control.
The technology is built in such a way that when they are being installed in Dallas homes, a manual operation will be accessible to any individual. The manual switch can be found at the end bar which will be able to activate the motion of the shade to open smoothly. You can also program it to the position and to the way you need it to operate.
A shade that has been preprogrammed and automated allows them to open in the morning and close in the evening and close up during brighter days to protect the floor and furniture from the adverse effects of the Dallas TX sun. Aside from its attractive nature, it is very protective. This is due to the customized and automated QMotion shades with Home Manager ST which even allows you to control the shade from anywhere in Dallas.
The advancement of this technology is so good that it allows Dallas residents to control the complete automation of the house environment such as heat and light through its sensors.